Toll Free: (866) 291-9656
Fax: (313) 527-7339
Ph: (313) 527-7337
© 2013 Stellar Plastics Fabricating, LLC
LOCATION
SOME of OUR SERVICES
Custom Fabricating
Boat Windshield Duplication
Some Boat Hatches
Plastic Welding
Engraving
Cutting
Finishing
Polishing
Drilling
Dialysis Fixtures
Silk Screening
Literature Racks
Sneeze Guards
Drape Forming
Strip Heater Bending
Acrylic Sheet
Polycarbonate Sheet
CNC Cutting
ABOUT STELLAR PLASTICS
Stellar Plastics Fabricating has been at the same location in Detroit, MI since 1953. We offer a wide variety of fabrication services of plastic materials ranging from Acrylic, Polycarbonate, PVC, Polyethylene, Polypropylene, and many more.
Stellar Plastics Fabricating, LLC

14121 Gratiot Ave.
Detroit, MI 48208

Map/Directions
Phone: (313) 527-7337
Fax: (313) 527-7339
Toll Free: (866) 291-9656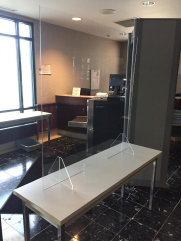 CUSTOM FABRICATING - Working from your drawing or print, let us give you a quote on your next plastic materials fabrication project. Acrylic Covers & Cases, Sneeze Guards, Literature racks, Drape Forming, Strip Heated Bends, Drilling, Machining, and Polishing.
PLASTIC WELDING
- Weldable materials include Polyethylene, Polypropylene, or PVC. From a print or drawing, we can make your design to your exact specs and of the material you choose. We can make New Tanks, Drip Pans, Dialysis Fixtures or repair anything damaged from these materials. Stellar Plastics Fabricating can also go on site to do tank repairs.
BOAT WINDSHIELDS - With 60 years experience duplicationg Boat Windshields, send us a picture and see if we can duplicate yours. We can also duplicate some Boat Hatches as well as other marine parts. We can also fabricate parts from King Starboard.
ENGRAVING - Name Badges, Name Plates, and Wall Signage are just some of the engraving capabilites we have. We can also do boat dash panels with holes for guages and engraved captions.
CLEANERS, POLISHES, and SOLVENTS - We carry Brillianize Plastic Cleaner, Novus Plastic Polish, and Weldon Solvents.